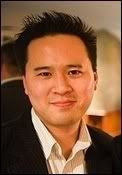 Ustream.tv has officially announced web strategist Jeremiah Owyang as a key advisor to the company. Jeremiah is one of Web 2.0's most influential and forward thinking individuals. He is involved in a number of Web Strategist organizations and hosts his own blog on Web Strategy.
Jeremiah Owyang currently serves as the Director of Corporate Media Strategy at PodTech.net.
Check out Jeremiah's recent blog post on Ustream.tv: HERE!